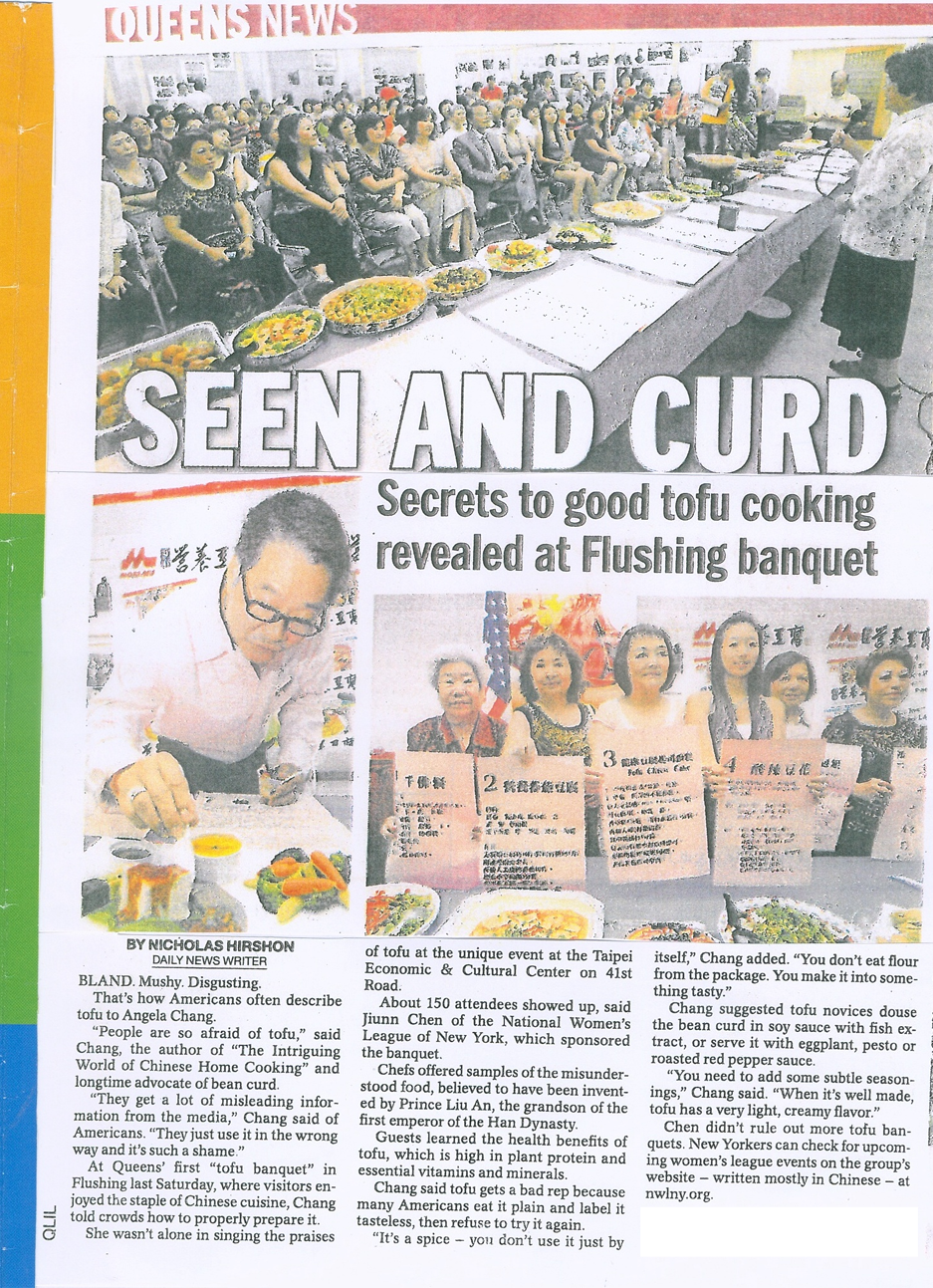 Photos and interview from Daily News
By NICHOLAS HIRSHON
BLAND, Mushy, Disgusting.
That's how Americans often describe tofu to Angela Chang.
"People are so afraid of tofu," said Chang, the author of "The Intriguing World of Chinese Home Cooking" and longtime advocate of bean curd.
"They get a lot of misleading information from the media," Chang said of Americans. "They just used it in the wrong way and it's such a shame."
At Queens' first "tofu banquet" in Flushing last Saturday, where visitors enjoyed the staple of Chinese cuisine, Chang told crowds how to properly prepare it..
She wasn't alone in singing the praises of tofu at the unique even at the Taipei Economic & Cultural Center on 41st Road.
About 150 attendees showed up, said Jiunn Chen of the National Women's League of New York, which sponsored the banquet.
Chefs offered samples of the misunderstood food, believed to have been invented by Prince Liu An, the grandson of the first Emperor of the Han Dynasty.
Guests learned the health benefits of tofu, which is high in plant protein and essential Vitamins and minerals.
Chang said tofu gets a bad rep because many Americans eat it plain and label it tasteless, then refuse to try it again.
It's an ingredient – you don't use it just by itself," Chang added. "You don't eat flour from the package. You make it into something tasty."
Chang suggested tofu novices douse the bean curd in soy sauce with fish extract, or serve it with eggplant, pesto or roasted red pepper sauce.
"You need to add some subtle seasonings," Chang said, " When it's well made, tofu has a very light, creamy flavor."
Chen didn't rule out more tofu banquets. New Yorkers can check for upcoming women's league events on the group's website at www.nwlny.org.
Montgomery Woman's Club Newsletter
January 2016
Fundraising Party Hosted by Angela Chang olds Fundraiser for Crawford House
(A rehabilitation Center for women with emotional issues)
"Tofu Party" held at Angela Chang's house to illustrate the beauty of tofu culinary art was a huge success.
A group of 25 happy people filled the house of the host to celebrate a "Holiday Health Eating" event and to raise funds for Angela's favorite charity, the Crawford House.
Faces lit up when guests saw the broad display of fabulous-looking tofu dishes - twice as many as had been promised.
Each dish had it's distinctive taste, color, and presentation - truly a feast for the eyes and palate.
The guests got to experience that tofu was more than just a nutritional supplement, but a food source for a myriad of beautiful and tantalizing gourmet dishes.
The party was truly an extraordinary experience.
Angela's weeks-long hard work was rewarded with the many compliments she received from the guests; the more than seven hundred dollars she collected for the Crawford House; and the heart-warming feedback she recieved.
One guest said she has now added more tofu to her daily menu; another fell in love with a particular tofu salad and created a similar dish for everyday family dining.
This party was truly a special gift for Angela; for the supporters of this beautiful event; and for the Crawford House.